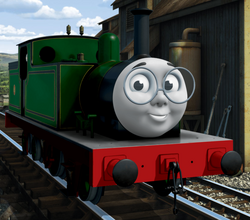 Whiff
Whiff is a grubby green tank engine who's main task is collecting rubbish and scrap, which explains his dirty appearance and smell.
Bio
When Whiff first arrived on Sodor, Gordon, James and even Emily ostracized the cheerful and chipper green engine, deeming him smelly and bizarre, particularly making fun of his strange whistle. On his first day, the Fat Controller said that Emily was to show him around, which she was offended by. Emily tried to avoid him, but Whiff just continued to find her again, not realizing that Emily was deliberately "losing" him. However, in the end, Emily realised that Whiff was a true friend despite his appearance and obvious disgusting stench. Since that day, Whiff has been a close friend to the elegant emerald engine.
When The Fat Controller opened the Sodor Waste Dump, Whiff was the first engine sent to work there, and he now works very hard collecting rubbish!
When The Fat Controller purchased Scruff, he was sent to work with Whiff at the waste dump and they became good friends.
Persona
Whiff is cheerful and optimistic. He enjoys his job of collecting rubbish. He doesn't seem to care what the other engines think about him: either that or he is oblivious to their opinions. Despite that, he is friendly and always does his job well. He is somewhat naive, as he didn't realise why the other engines tried to avoid him so much.
Livery
Whiff is painted in a dark green livery with black and gold stripes and green wheels. He wears large spectacles on his smokebox.
Appearances
Trivia
Whiff is the first and only engine to wear glasses in the television series.
Whiff has been shown to pull more trucks than his basis is capable of pulling.