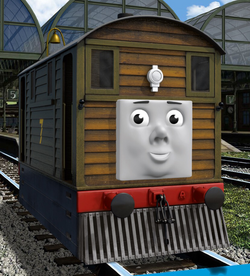 Toby
Number: 7
First Appearance: Geoffrey's Real (cameo), Skarloey Comes Home (speaking)
Friends: The Steam Team, Duck, Donald and Douglas, Oliver, Daisy, Mavis, Harvey, Murdoch, Stanley, Flora, Hiro, Belle, Stephen, Stafford, Philip, Henrietta, The Fat Controller
Enemies: Diesel, 'Arry and Bert, Diesel 10, Splatter and Dodge, Spencer, Vinnie, Mr. Johnson
Class: LNER J70 0-6-0
Designer: James Holden
Builder: Stratford Works
Built: 1914
Configuration: 0-6-0T
Arrived on Sodor: 1951
Toby is a steam tram who works on the Ffarquhar Branch Line. He has a coach called Henrietta.
Bio
Toby was built by James Holden at GER's Stratford Works in Stratford, London, England in 1914 and originally lived at Great Yarmouth Docks, Norfolk with his brothers before working on an unnamed tramway. In 1951, Toby came to work at the quarry on Thomas' Branch Line after his old railway in East Anglia closed, as it was found to be illegal for Thomas to go on the quarry tramroad without sideplates or cowcatchers.
Persona
Toby is old but wise, hardworking, and knows enough about running branch lines to justify running Thomas' with Thomas and Daisy after Percy's accident with the trucks. He is also savvy enough to control the trucks. However, his advanced age and design means that he is weaker than the other engines. While Toby is always ready to work hard without any fuss, he can be a bit temperamental sometimes, especially when young and inexperienced engines who are full of themselves make things difficult for him. However, work at the quarry line often soothes off his moods without any cause of grief to anyone, except of course his old faithful coach, Henrietta.
Livery
Toby is painted brown with grey sideplates and cowcatchers. He has the number "7" painted on his sides in bright yellow with a red border.
Appearances
Season 1 - Geoffrey's Real (cameo), Percy's Oil Spill (cameo), Old and Wise (cameo), Skarloey Comes Home, Snowdrift, Big Strong Murdoch, Gordon, Spencer and the Flying Scotsman (cameo), and Tinsel on the Tracks
Season 2 - Disappearing Diesel (cameo), Trouble on the Line (cameo), Fire at Ffarquhar, The New Controller, Jealous James, The "Ghost" Warrior, Jack and the Quack, Back to Misty Island, Sodor Day, The Ghostly Tale of Timothy (does not speak), and Pedro Deep Down (cameo)
Specials:
Trivia
Toby is Christopher Awdry's favourite engine. This is because while on a trip in Yarmouth, he and his father got to ride in the cab of a J70 tram, thanks to Wilbert's good friend, the late Reverend Charlie Rand.