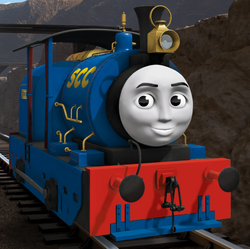 Timothy
First Appearance: Salty's Secret Story (cameo), Bill and Ben (speaking)
Enemies: Unknown
Builder: Bell Locomotive Works, Inc.
Configuration: 0-4-0ST
Built: Sometime between 1908 and 1923
Timothy is a little oil burning tank engine, who works at the Sodor China Clay Company with Bill, Ben, Marion and BoCo.
Bio
Timothy loves to work at the China Clay Pits with Bill and Ben, but his naïvety can sometimes lead to the twins playing tricks on him. Despite this, Timothy just dismisses them as silly and gets on with his job.
Bill and Ben tricked Thomas into taking a train of trucks, unaware that Timothy was on the other end which Timothy claimed was a bit of a funny trick. He gave Thomas some advice about the dangerous crumbling clay pit walls and he also told him not to mind Bill and Ben's tricks so much. Thomas accepted Timothy's advice to be careful.
Persona
Timothy is friendly, helpful, and loves being really useful, but can also be naïve and gullible, which can lead him to fall victim to Bill and Ben's tricks. He is also strong-willed and determined.
Livery
Timothy is painted dark blue with red lining and brass fittings. He has the letters "SCC" written on the sides of his water tank in yellow and has gold nameplates with his name written in black on the sides of his oil tank.
Appearances
Specials:
Trivia
Timothy has been modified for use on Sodor with loose couplings, added buffers and a brake pipe.