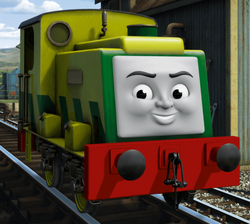 Scruff
First Appearance: Scruff the Scrapper
Friends: The Steam Team, Harvey, Arthur, Whiff, Hank, Samson, Victor, Kevin, Reg, The Fat Controller
Enemies: Diesel, 'Arry and Bert, Diesel 10
Class: Sentinel Steam Shunter
Designer: Sentinel Waggon Works Ltd
Builder: Sentinel Waggon Works
Built: 1946
Configuration: 0-4-0VBT
Scruff "the Scruncher" is a boxy tank engine who works at Whiff's Waste Dump.
Bio
When Scruff first came to Sodor, it was apparent that he disliked being clean. He enjoys working with Whiff at the waste dump and will often be heard shouting "Let's get scrunching!".
Persona
Scruff is a grubby little chap, with a lime green boxy shape. He is more than content with "scrunching" and shunting rubbish trucks at Whiff's waste dump and has few other aspirations. He has been known to run in fear and hide away from things that he does not quite understand and can find having all the focus on him a little daunting. It seems, at times, that Scruff would rather be busily working in the background. However, he is cheerful to welcome engines to the waste dump and happy to have others join in with the "scrunching". He is notably, perhaps, one of the few engines on Sodor with little desire to be clean and presentable. Scruff's main motivator is being able to just get stuck in and knuckle down with his jobs.
Livery
Scruff is painted lime green with dark green stripes. He has gold name plates on either side of his tanks.
Appearances
Trivia
Scruff did not have a rear coupling hook in the fourteenth season, yet he was seen pulling trucks. As of the seventeenth season, he now has a rear coupling hook.
Scruff's whistle is Percy's at a higher pitch.
For some unknown reason, Scruff's nameplate has always been blank in the television series but not on his merchandise.
His side tanks are considerably taller than his basis to accommodate his face.