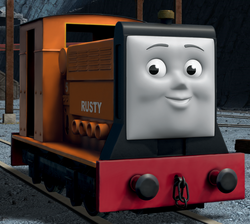 Rusty
Number: SR 5
First Appearance: Old and Wise
Friends: Everyone (except enemies)
Builder: Ruston and Hornsby
Built: 1957
Gauge: 2ft 3in
Configuration: 4w
Arrived on Sodor: 1957
Rusty is an orange narrow gauge diesel who works on the Skarloey Railway.
Bio
Rusty came to the Skarloey Railway to help out in Rheneas and Skarloey's absence. He quickly became an invaluable member of the team, being uncanny in terms of track repair and Quarry work. Rusty has had a variety of accomplishments and adventures, such as saving Duncan from a collapsing bridge and repairing the Lake Line from closure with the help of Skarloey, Rheneas, and Elizabeth. He also out-manuevered a massive boulder that threatened to flatten every little engine in the valley.
Persona
Rusty is a trusty, tame, friendly little diesel. He is a dedicated worker, often maintaining the line, while understanding and respecting the importance of his duties. He also has a rather distinctive two-tone horn. Rusty is quick to remind others with regards to proper conduct, particularly Duncan, who was initially very suspicious of the little diesel. He has a good working relationship with both Skarloey and Peter Sam in particular. Caring, calm, and quick-thinking, Rusty is modestly a credit to the Skarloey Railway.
Despite being friendly and hardworking, Rusty has acted suspicious and untrustworthy on some occasions, especially with Thumper the Quarry Machine because of an incident with the boulder a few years back.
Livery
Rusty is painted orange with yellow lining and white lettering.
Appearances
Season 1 - Old and Wise, Dashing Duncan, Sir Handel and the Coal Mines (does not speak), Scottish Engines, Skarloey Comes Home, Special Brakes (cameo), Rheneas' Risky Ride, and Rusty Rescue
Season 2 - Trouble on the Line, The Return of Boulder, Duncan's Discovery, The "Ghost" Warrior (cameo), Long Lost Twins (cameo), Sodor Day (cameo), Duke Does it All (cameo), Pile Driver Pedro, and Ministry
Specials:
Trivia
Rusty was named after his builders Ruston and Hornsby, not his orange colour.