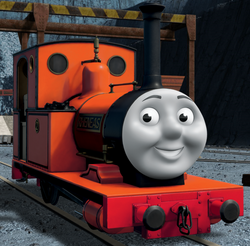 Rheneas
Number: SR 2
First Appearance: Old and Wise
Friends: Everyone (except enemies)
Builder: Fletcher, Jennings and Co.
Built: 1865
Gauge: 2ft 3in
Configuration: 0-4-0WT
Arrived on Sodor: 1865
Rheneas is the second oldest engine on the Skarloey Railway.
Bio
Rheneas is an old, yet lively red engine who works on the Skarloey Railway. He is brothers with Skarloey, and twins with Dolgoch, his Tallylyn Railway counterpart.
When he and Skarloey first arrived on Sodor, they went through many mishaps before becoming truly enterprising engines, but one hundred years later they are two of the most respected engines on the Skarloey Railway. They are seen as the elders of the fleet and keep all the other engines on task and in good working order.
In his early days, Rheneas braved terrible weather and saved his passengers lives, earning the title, "Gallant Old Engine".
Rheneas went away to be mended during an extensive overhaul and when he returned, the engines were thrilled to have him back.
Persona
Rheneas has been called a "gallant old engine" before and deserves such a title. Rheneas is highly determined, brave, and courageous. He is a tough, committed worker despite his age and takes great responsibility in his work. He is keen to keep his friends smiling and, although he is a level-headed engine, he can be a bit of an adventurer too. Though he may often try to struggle on alone, Rheneas knows when it is time to call on the help of his friends. Nevertheless, Rheneas is always highly dedicated to the task at hand.
Livery
Rheneas is painted vermilion with black lining and brass fittings. He has black and brass name and number plates on the sides of his boiler and coal bunkers respectively.
Appearances
Season 1 - Old and Wise, Dashing Duncan, Sir Handel and the Coal Mines (does not speak), Scottish Engines, Skarloey Comes Home, Special Brakes, Rheneas' Risky Ride, Waterworks (cameo), and Rusty Rescue
Season 2 - Trouble on the Line, Breakdown Butch, The Return of Boulder, Duncan's Discovery, The "Ghost" Warrior, Sidney Gets Lost, Long Lost Twins (cameo), Duke Does it All (cameo), Trapped in Tidmouth (cameo), and Ministry
Specials:
Trivia
His name is Sudric for "Divided waterfall".