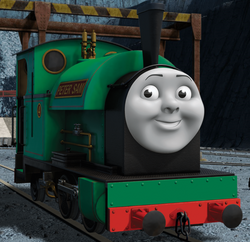 Peter Sam
Number: SR/MSR 4
First Appearance: Old and Wise
Friends: Everyone (except enemies)
Designer: James Kerr & John Stuart
Builder: Kerr Stuart
Built: 1920
Gauge: 2ft 3in
Configuration: 0-4-2ST
Peter Sam is a green narrow gauge engine, originally named Stuart.
Bio
Peter Sam, originally named Stuart, worked on the Mid Sodor Railway with Duke, Falcon, Freddie, Bertram and Smudger. When the line closed, he was purchased by the Skarloey Railway, and renamed "Peter Sam." During his stay, he has had a plethora of exciting adventures. He almost left a refreshment lady behind at a station, got into a nasty accident at the slate quarry, damaging his old funnel, and crashed into an icicle into a tunnel, causing the already loosened funnel to fall off (which was eventually replaced with a smart new Geisel funnel!)
Later in his career, a line of trucks with leaves and broken branches broke away from him and fell off the Old Iron Bridge and into a ravine! The accident, unfortunately, got Peter Sam into a lot of trouble with the Fat Controller! He also found a new location for the Refreshment Lady's Tea Shop, finding an old coach that could be refurbished into a grand tea shop on wheels.
Persona
Peter Sam, named Stuart in his younger days while being brought up under the instruction of Duke, is highly enthusiastic, eager, and bubbly. He can be occasionally cheeky, teasing, and a little cocky, but is kind-hearted, well-meaning, and good mannered. He can also be prone to being a little naïve at times and perhaps take things a little too literally. Peter Sam has a special funnel which makes puffing much easier, after his old one was damaged in a nasty accident with some trucks that broke free from the incline. With an infectious attitude and high spirits, Peter Sam is almost kind and hard-working to a fault, seldom grumbling about late hours or extra work. He is always nice to the coaches and even the trucks.
Livery
Peter Sam is painted dark green with red lining and brass fittings. He has red and gold name and number plates on the sides of his saddle tank and coal bunkers respectively.
Appearances
Season 1 - Old and Wise, Dashing Duncan, Sir Handel and the Coal Mines, Scottish Engines, Skarloey Comes Home, Special Brakes, Rheneas' Risky Ride (cameo), Waterworks (cameo), and Rusty Rescue
Season 2 - Trouble on the Line, Breakdown Butch, The Return of Boulder (cameo), Duncan's Discovery, The "Ghost" Warrior, Sidney Gets Lost, Long Lost Twins (cameo), Sodor Day (cameo), Duke Does it All, Pile Driver Pedro, and Ministry
Specials:
Trivia
Peter Sam is named after former Skarloey Railway controller Mr. Peter Sam.