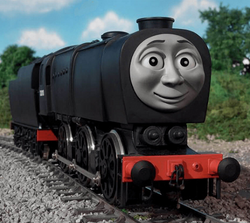 Neville
Neville is a black tender engine who pulls passenger and freight trains along the Main Line.
Bio
When Neville first arrived on Sodor, Thomas had spotted him working with 'Arry and Bert which made him think that Neville was friends with them. He goes to inform the other engines about this, in which they start to ridicule Neville for being friends with the diesels. But when Thomas heard the truth about Neville's relationship with the diesels and when the latter had an accident on a bridge, Thomas saved Neville and got to know him better, Neville is now friends with Thomas and the other engines.
Persona
Neville is gentlemanly, highly enthusiastic and kind, if a little naive. Neville never holds a grudge, but can be easily hurt by unkind comments or not being accepted by others who judge him only by his appearance. Otherwise, he is bubbly, ready to pull together and happy to make new friends.
Livery
Neville is painted in the BR's unlined black livery with the number "33010" painted on the sides of his cab in white.
Appearances
Specials:
Trivia
Neville's whistle sound is one half-step higher in pitch than Oliver's from the third season, which, in addition, is actually Gordon's, but two whole-steps higher in pitch. Neville's whistle was re-used later in the series for Flying Scotsman.