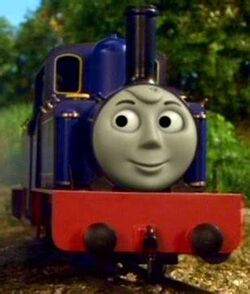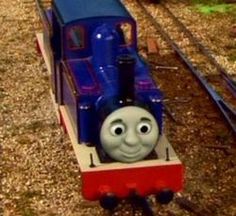 Mighty Mac
First Appearance: Old and Wise (cameo), Skarloey Comes Home (speaking)
Friends: Thomas, Skarloey, Rheneas, Sir Handel, Peter Sam, Rusty, Duncan, Duke, Bertram, Freddie, Luke, Madge, The Thin Controller
Enemies: Unknown
Builder: Boston Lodge
Built: between 1879 and 1880
Gauge: 2ft 3in
Configuration: 0-4-4-0T
Mighty Mac is a double-ended Fairlie duplex locomotive on the Skarloey Railway.
Bio
The Thin Controller brought Mighty Mac to the railway to help out with passenger excursions, but the engines only had prior experience with shunting work. Mighty Mac worked very indecisively at first, bickering and making it difficult for the other engine to get any work done. Eventually, they got over their feud and brought their passengers to their destination safely.
Persona
This is complicated because Mighty Mac has two different personalities existing simultaneously on one engine. The two halves are known to bicker constantly, but they almost always come to a resolution, at least until another argument arises!
Mighty is the older of the pair, identified by his swoop of hair. He acts like an older brother to Mac and believes he is far more cunning and handsome.
Mac is the younger of the pair who identified by his freckles. He likes to rebel and does not like to be told what to do by his other half. He is much more intelligent than Mighty gives him credit for, often saying something witty or devising a clever plan to get them out of trouble!
Livery
Mighty and Mac are painted royal blue with yellow and red lining. On Mighty's side, his cab windows and tank caps are lined with yellow, while on Mac's side, they are lined with red.
Appearances
Season 1 - Old and Wise (cameo), Skarloey Comes Home, Rheneas' Risky Ride, Gordon, Spencer and the Flying Scotsman (Mighty speaks; Mac does not speak), and Rusty Rescue (cameo)
Season 2 - Trouble on the Line (cameo), The Return of Boulder (cameo), Duncan's Discovery, The "Ghost" Warrior (cameo), Duke Does it All, and Ministry (do not speak)
Specials:
Trivia
Mighty is the only engine to have what appears to be hair (excluding facial hair).