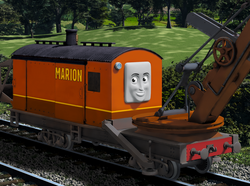 Marion
First Appearance: Bill and Ben
Friends: Thomas, Edward, Percy, Toby, Bill and Ben, BoCo, Derek, Timothy, Emily, Stephen, Millie, Toad, Jack, Alfie, Oliver the Excavator, Mike (one-sided), Bert, Rex
Enemies: Mike (one-sided)
Class: Marion Model 40
Builder: Marion Power Shovel Company
Built: circa 1911
Configuration: Bo-Bo
Marion is a self-propelled steam shovel who works at the clay pits with Bill, Ben, Timothy and BoCo.
Bio
The morning after a large landslide at the clay pits, Marion met Thomas for the first time, scaring him with her bucket. When she introduced herself, Thomas found that she talked a lot. A few days later, she was still cleaning up the fallen rocks when Percy and James came her way trying to escape from another landslide caused by James' whistle. Although James escaped, Percy was swept up by the landslide. He was buried wheel-deep when he saw a large rock coming his way. It looked like the end for the little green tank engine, but Marion put her bucket in front of him and caught the rock, which she identified as the skull of a Megalosaurus.
Persona
Marion is very enthusiastic and likes to think of herself as well-informed and is happy to share her knowledge. She is very talkative and loves to tell stories of her discoveries. However, not all the engines prefer to stick around and hear her stories.
Despite her enthusiastic demeanour, she can also be rather stern, as seen when she told off Ben for not delivering any coal and making the twins apologise and thank Timothy.
Livery
Marion is painted orange and light brown with yellow lining. She has her name painted on her sides in yellow.
Appearances
Specials:
Trivia
Marion's name is derived from her basis (the Marion Revolving Steam Shovel) as well as the company that built her (the Marion Steam Shovel Company).
She, apparently, has a rock collection.
Marion is the first female character who Toad has referred to as "Miss".