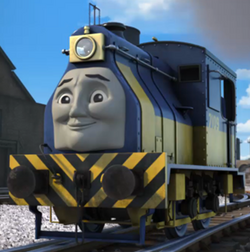 Logan
Number: 7109
First Appearance: Hector's New Home
Enemies: Unknown
Designer: Sentinel Waggon Works
Builder: Sentinel Waggon Works
Configuration: 0-4-0T
Built: 1927
Logan is a steam shunter who looks like a diesel engine, he works at the Crosby Coal Company.
Bio
Logan arrived on Sodor on the day of the Sodor Talent Show. He was responsible for arranging trains for Edward and Gordon in preparation for the show. When Edward and Gordon arrived at the coaling plant to pick fill up on coal and collect their trains, Logan could not tell them apart because they were facing him tender-first. As a result, he gave Gordon a train of Bubblesome Trucks filled with bubble liquid for Mr. Bubbles, believing Gordon to be Edward. When Logan gave Gordon's coaches to Edward, he realized his mistake and set off to catch up with Gordon.
Gordon at first mistook Logan for a diesel. However, after a friendly chat, Gordon learned that Logan was a steam shunter and praised him for his work ethic. Later that day, Logan returned to his work at the Crosby Coal Company.
Persona
Logan is a rough and tumble little shunter who often jumps to conclusions, but knows that patience is a virtue. He loves to be useful, and can be prone to making himself known wherever he can.
Livery
Logan is painted light blue and yellow with hazard stripes on his bufferbeam.
Appearances
Trivia
Logan is a merchandise exclusive character with a book tie-in for Wooden Railway's "Sodor Story Collection" series.