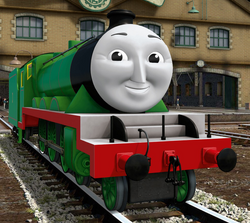 Henry
Number: 3
First Appearance: Geoffrey's Real
Friends: Everyone (except enemies)
Enemies: Mr. Johnson, The Forest Ghost, Timmy, Diesel, Diesel 10, D199, D261, 'Arry and Bert, Spencer, Vinnie
Class: LMS Stanier "Black 5" 4-6-0 with fowler tender, originally GNR Ivatt Classic C1/LNER Gresley Class A1 hybrid 4-6-0
Designers: Sir Topham Hatt I and William Stanier
Builder: Crewe Works (rebuilt)
Build date: circa 1919, rebuilt 1935
Configuration: 4-6-0, originally 4-6-2
Arrived on Sodor: 1922
Henry is a green mixed-traffic engine who works on the Main Line.
Bio
Henry is a dependable mixed traffic engine on Sodor. His most recognizable train is The Flying Kipper, which is unfortunately notorious for ending in disaster. Once, Henry was pulling the Flying Kipper, but had a crash when the home signal was down and the points from the Main Line to a siding had been frozen. The Fat Controller sent Henry to Crewe for a new shape. When Gordon is ill, Henry can be called upon to pull the Express.
Persona
Henry is generally kind and well-behaved, but he is occasionally arrogant and pompous. Henry is at heart a hard worker, but his frequent bouts of illness hinder his work. His illness almost always involves his boiler having some sort of issue. He is also a nature-lover as evidenced by his love for trees. Henry can also be described as a tree-hugging engine as he tried to prevent the tall pine tree and the wishing tree from being cut down. It is shown in the episode Henry the Warrior that he also has a slight fear of heights.
Livery
Henry is painted in the NWR's green livery with red-and-yellow lining and the number "3" painted on his tender sides in yellow.
Appearances
Season 1 - Geoffrey's Real, Percy's Oil Spill (cameo), Splatter and Dodge (cameo), Edward Tries His Best, Henry the Warrior, The Great Western Way, Skarloey Comes Home (cameo), Big Strong Murdoch, Fergus and the Small Engines (mentioned), and Gordon, Spencer and the Flying Scotsman
Season 2 - Disappearing Diesel (cameo), Haunted Henry's Forest, The New Controller, Breakdown Butch (cameo), Jealous James, Duncan's Discovery (cameo), Back to Misty Island, Long Lost Twins (cameo), Sodor Day, The Ghostly Tale of Timothy, Timothy and the Aquarium (cameo), and Trapped in Tidmouth (cameo)
Specials:
Trivia
Henry has appeared in the Railway Series more than any other engine, having been in both the most books and the most individual stories.