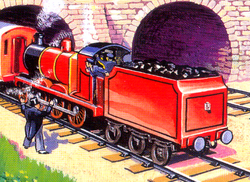 Geoffrey
First Appearance: Geoffrey's Real
Friends: Everyone (except Smudger and Vinnie)
Class: L&YR Class 25
Builder: Horwich Works
Designer: George Hughes
Configuration: 2-6-0, originally 0-6-0
Geoffrey is a red tender engine who works on Edward's Branch Line.
Bio
When Henry refused to leave the tunnel. Geoffrey, albeit unnamed at the time, was called to try and push him out, but failed, this meant that Henry had to be kept shut up in the tunnel for days.
He returned to Sodor however many years later, but a lot of engines confused him with an engine that Thomas had made with an engine in the past and some wouldn't believe him, one in particular James, but after Edward told the engines that Geoffrey is indeed real and gives them confirmation that he is, they all no longer think this. Later, Geoffrey told Edward that he got the name 'Geoffrey' from a workman who was visiting Sodor at the time Thomas had made up the engine with the aforementioned name.
Persona
Geoffrey is a kind, jovial, and helpful engine who is very wise and outgoing. He is eager to help out anyone who is in trouble, regardless of their size or strength.
Livery
Geoffrey is painted red with yellow and black lining. He has red wheels and a red dome.
Appearances
Season 1 - Geoffrey's Real, Splatter and Dodge, Edward Tries His Best, Henry the Warrior, The Great Western Way, Special Brakes, Waterworks, Gordon, Spencer and the Flying Scotsman (cameo), and Tinsel on the Tracks
Season 2 - Haunted Henry's Forest (cameo), Trouble on the Line, Breakdown Butch, Duncan's Discovery (cameo), Sidney Gets Lost, Sodor Day, Timothy and the Aquarium (cameo), Trapped in Tidmouth (cameo), and Ministry (cameo)
Specials:
Trivia
Geoffrey is really the second unnamed red engine in the Railway Series who appeared in the book "The Three Railway Engines". However, in Geoffrey's Real, Geoffrey tells Edward he didn't have a name at the time, and was given the name Geoffrey by a workman who had visited Sodor when Thomas had made up an engine with the name.