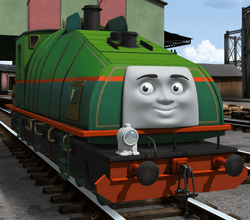 Gator
Gerald, better known by his nickname Gator, is a tank engine who runs in the mountains.
Bio
Although Gator's real name is Gerald, he is known as Gator due to his resemblance to an alligator. He works high up in the mountains and is incredibly brave. He longs to travel and is excited about going to the sea.
On Gator's first visit to Sodor, he came at a time when Percy was feeling down due to strange events at the China Clay Pits. During this time, Gator and Percy bonded, and the former helped the latter recover his self-esteem. He later returned for the holidays, but due to a smudged rock salt order, he and Percy missed each other numerous times, until finally meeting at the docks.
Persona
Gator is incredibly brave and longs to travel, while retaining a calm, grounded personality. He longs to travel out at sea and works up in the high mountains, but also has a slight fear of heights.
Livery
Gator is painted two-tone green with gold lining and a red stripe, running board and bufferbeams. He has a brass nameplate on each side of his bunker.
Appearances
Specials:
Trivia
Gator's whistle is actually Charlie's in a deeper pitch.
Gator has been modified to work on Sodor, such as having buffers, a brake pipe and loose couplings. He has also been rescaled to standard gauge, whereas his original basis was narrow gauge.
It is currently unknown why Gator was brought to Sodor prior to his debut, why he left to work elsewhere, and why he returned in Long Lost Friend.
Despite the fact that his real name is "Gerald" and that "Gator" is only a nickname, his nameplates still read "Gator".