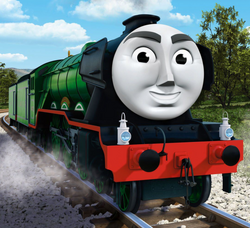 Flying Scotsman
Number: 4472, formerly 1472, 502, 103 and 60103
First Appearance: Gordon, Spencer and the Flying Scotsman
Friends: Everyone (except Spencer, one-sided)
Enemies: Spencer (one-sided)
Class: LNER A3 "Pacific", formerly LNER A1 "Pacific"
Designer: Sir Nigel Gresley
Builder: Doncaster Works
Built: 1923, rebuilt 1947
Restored: 1968, 2016
Configuration: 4-6-2
Top Speed: 100 mph
The Flying Scotsman is the last of Gordon's brothers. He holds the records for being the first engine to officially run at 100 mph.
Bio
Flying Scotsman has had an incredible career in his heyday and enjoys his visits to Sodor very much. He was a witness to Henry's humiliating "tender incident" as well as Henry's "Super Rescue".
Persona
Flying Scotsman is a polite and proud engine, however he can be pompous and somewhat smug; like his brother Gordon. Despite being friendly with Thomas and giving him a pep talk, he thought that no famous engines came from Sodor and indicated that he viewed Sudrian engines with low expectations but later changed his mind after seeing the Sodor engines competing at the Great Railway Show, realising they were made of "sterner stuff" than he initially believed.
Scotsman enjoys teasing Gordon, referring to him as his "little brother" to annoy him, using his catchphrase as his own or bragging about being invited to the Great Railway Show but does care for him as when Gordon was overheating during the race, he urgently tried warning him to stop.
Livery
Flying Scotsman is painted in LNER green with black and yellow lining and the words "LNER" painted on his tender sides in yellow.
Appearances
Specials:
Trivia
In The Great Race, Flying Scotsman refers to Gordon as his "little brother", a title the latter is not particularly fond of, even though Gordon is older and they are the same size. This relation, however, is tied to their being the same class but of differing upgrades or Scotsman was just teasing him.