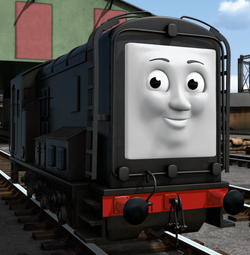 Diesel
First Appearance: Percy's Oil Spill (cameo), Splatter and Dodge (speaking)
Friends: BoCo, 'Arry and Bert, Diesel 10, Salty, Den, Dart, Paxton, The Fat Controller
Enemies: Everyone (except friends)
Class: BR Class 08
Designer: British Railways
Builder: Crewe, Darlington, Derby, Doncaster, or Horwich Works
Built: 1952
Configuration: 0-6-0
Top speed: 15-20 mph
Arrived on Sodor: June 1957
Diesel is a devious BR Class 08 diesel shunter who works on the North Western Railway.
Bio
Diesel was the first diesel engine to come to Sodor and certainly created a foul reputation for himself. After spreading lies about Duck and being sent away, he was repeatedly called upon to help as a last resort. Some of the events that occurred during his various visits was pushing a train of China Clay into the sea, falling off a pier and into a barge after failing to prove his strength, and being nasty to Fergus when he was sent to help out at the Cement Works. Since these mishaps, the Fat Controller had no choice but to permanently enlist Diesel to the fleet. Although he still continues to cause trouble, he is a very efficient worker.
Persona
Diesel is, in essence, the average pantomime villain. He is oily, malicious, devious, scheming, and full of ideas to get revenge. It appears Diesel has a good side in him, but one would still have to look deep to find it. He does want to be a really useful engine, however, since his arrival, he has given diesels a bad reputation. He is also very proud to be the first diesel on Sodor.
Livery
Diesel is painted in the British Railways' black livery. His livery originates from British Railways in the 1950s, during the time when all shunting engines were painted black.
Appearances
Season 1 - Percy's Oil Spill (cameo), Splatter and Dodge, Harvey's Goods Train (cameo), Scruff the Scrapper, and Fergus and the Small Engines (flashback; does not speak)
Season 2 - Disappearing Diesel, Unique Engines (cameo), The New Controller (cameo), Back to Misty Island (cameo), Long Lost Twins, The Ghostly Tale of Timothy, Trapped in Tidmouth (cameo), and Ministry (cameo)
Specials:
Trivia
Diesel was the first diesel to be introduced in the series.
Diesel has travelled at well over his top speed of 20 miles per hour on numerous occasions.
Diesel was created when Eric Marriott; the editor of the Railway Series at the time, suggested that Awdry should introduce a diesel to in order to keep the books up to date.