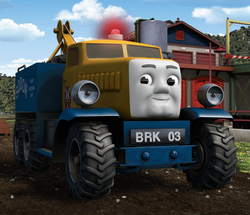 Butch
Butch, also known as the "Sodor Heavy Recovery Unit", is a breakdown vehicle who is stationed at the Sodor Search and Rescue Centre ready to help engines or road vehicles in need.
Bio
Butch is a heavily modified lorry constructed from the parts of a diesel, a lorry and a crane. When he came to Sodor, he worked all around the island, including Boulder Quarry when it was still in operation.
At one point, Butch was fitted with a magnetic apparatus on his crane arm, but did not know how to use it, causing him to accidentally attach himself to Thomas for the majority of the day!
Persona
Butch is serious about his job and loves working, especially with his railway friends. Despite his size, Butch has a kind heart and is always ready when his service is needed.
Livery
Butch is painted yellow with a navy flatbed and "Sodor Heavy Recovery Unit" written on both sides in white. Since the opening of the Sodor Search and Rescue Centre, he has the logo of said establishment on his cab doors.
Appearances
Season 1 - Geoffrey's Real (cameo), Splatter and Dodge (cameo), Harvey's Goods Train (cameo), Snowdrift (cameo), Rheneas' Risky Ride (cameo), Scruff the Scrapper (cameo), Rusty Rescue (cameo), and Tinsel on the Tracks
Season 2 - Disappearing Diesel, Fire at Ffarquhar (cameo), Breakdown Butch, The Return of Boulder (cameo), Jack and the Quack (cameo), Back to Misty Island (cameo), Sodor Day, Pile Driver Pedro (cameo), and Ministry (cameo)
Specials: