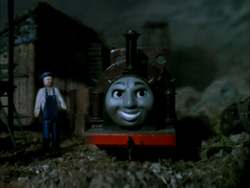 Bertram
First Appearance: Old and Wise (cameo), Dashing Duncan (speaking)
Friends: Toby, Skarloey, Rheneas, Sir Handel (one-sided), Peter Sam, Rusty, Duncan, Duke, Smudger, Ivo Hugh, Freddie, Mighty Mac, Fred (one-sided), Luke, Millie, The Thin Controller
Enemies: Sir Handel (one-sided), Fred (one-sided), Ministry of Defence Engine
Builder: Boston Lodge
Built: 1879
Gauge: 2ft 3in
Configuration: 0-4-0ST+T
Bertram is an old narrow gauge tender engine who worked at the mines.
Bio
Bertram used to work on the Mid Sodor Railway with Falcon, Stuart, Duke, Freddie and Smudger. He had been on many adventures in his heyday which explains his adventurous and talkative behaviour. When the railway closed down, and Stuart and Falcon were sold to the Skarloey Railway, Bertram (like Duke) was left abandoned at the old mines for many years and was lost and forgotten. Years later however, Toby, the Fat Controller, and his grandchildren discovered the Old Mine where Bertram had been in isolation. Toby, who was put on guard later in its restoration, found the "Old Warrior" resting close to an old warehouse. After that, Bertram was swiftly put back into service. He now works happily on the Skarloey Railway, working in the mines and quarries just like in his heyday.
Persona
Bertram is brave, wise, adventurous and hardworking. He has a knack of storytelling, which can often irritate the other engines, especially Sir Handel who has started to take a dislike to the Old Warrior because of his talkative behaviour. Despite everything, Bertram is a kind-hearted soul who tends to make any engine on the Skarloey Railway feel welcome to any place they visit. He is also a guardian, as he often stays at the mines at night to keep watch of any intruders. During this moment, Bertram shows very little of his wise personality and acts hostile and aggressive to engines or humans that intrude the mine. If it is an engine or human that Bertram is familiar with, then he'll let them off. But in all other cases, he will be unwelcoming and belligerent to those he is unfamiliar with.
Livery
Bertram is painted dark brown with red lining and has two brown plaques on either side of his saddletank with his name written in gold on his nameplates.
Appearances
Season 1 - Old and Wise (cameo), Dashing Duncan, Sir Handel and the Coal Mines, Skarloey Comes Home, Rheneas' Risky Ride, and Rusty Rescue (cameo)
Season 2 - Trouble on the Line, Breakdown Butch, The Return of Boulder (cameo), Duncan's Discovery, The "Ghost" Warrior, Sodor Day (cameo), Duke Does it All, and Ministry
Specials: