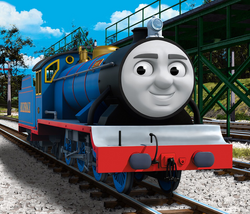 Bert
First Appearance: The Great Western Way
Enemies: Sailor John
Designer: Sir Arthur Heywood
Builder: Duffield Bank
Built: 1894
Gauge: 15 inch
Configuration: 0-8-2, originally 0-8-0T
Arrived on Sodor: 1967
Bert is a blue tender engine who works on the Arlesdale Railway.
Bio
Bert was brought to Sodor from England with Rex and Mike for ballast traffic. When the Rev. Wilbert Awdry and the Rev. Teddy Boston accidentally splashed Bert with rainwater, he was very cross, and got revenge on the latter by causing him to be soaked by wet tree leaves. He later apologised, and the two clergymen cleaned him, and the Rev. Awdry promised to write about him and the others in his book.
Persona
Bert is the quietest of the Arlesdale Railway engines. He appears to be very easy going and friendly. One thing Bert doesn't like, however, is the idea that bigger engines (and some people) might look down on the little engines just because they're small. Bert usually gets on with his jobs without complaining and doesn't mind what kind of work he does as long as he's treated with respect.
Livery
Bert is painted blue with red and yellow lining. He has a brass dome, blue wheels, red nameplates with gold writing mounted on each side of his boiler and the word "ARLESDALE" written on the sides of his tender in yellow.
Appearances
Specials:
Trivia
Bert uses Mighty's original whistle sound at a half-step higher in pitch.