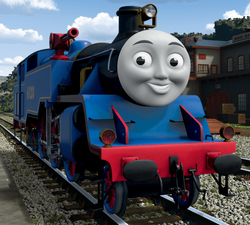 Belle
Number: 6120
First Appearance: Big Strong Murdoch (cameo), Disappearing Diesel (speaking)
Friends: Thomas, Percy, Toby, Harvey, Emily, Flynn, Butch, Rocky, Captain, Dustin, The Fat Controller
Enemies: Unknown
Class: BR Standard 4MT Tank
Designer: Robert A. Riddles
Builder: Brighton, Derby, or Doncaster Works
Built: sometime between 1951 and 1956
Configuration: 2-6-4T
Belle is a firefighting tank engine who is a member of the Search and Rescue Team.
Bio
When Belle first arrived on Sodor, she was introduced to Toby the Tram Engine, who considered Belle a bit overwhelming. However, all she wanted was a friend and after putting aside their differences, they learned that they were far more similar than Toby ever would have guessed!
Persona
Belle is lively, loud, and proud, with a big personality. While she may come across as bolshy, highly self-assertive, and overwhelming, Belle will always have the best of intentions at heart. She always wants to do her best and be the best she can be, causing her to be daring, energetic, and bursting with enthusiasm. But Belle is happy to talk to any engine or vehicle and, although she may be quick to jump in with her own ideas, always tries to understand, help, and be kind to others. As a result, she is a very likable engine, so much so that even Cranky gets on with her. She gets on well with Thomas and can even hold a civil conversation with Diesel, but she works especially well with Flynn, when helping him to tackle fires and is always there to support him should he make a mistake. Although fighting fires is always high on her list of priorities, Belle has also been known to perform goods duties about the railway.
Livery
Belle is painted blue with red and brass fittings. She has the number "6120" painted in gold and a crest consisting of a flame, two dolphins, and a crown painted on her sides.
Appearances
Specials:
Trivia
Belle's name is French for "pretty", and references the bell on her boiler.