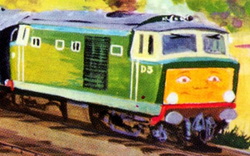 Bear
Number: D3, formerly D7101
First Appearance: Henry the Warrior (cameo), Snowdrift (speaking)
Friends: The Steam Team, Duck, Donald and Douglas, Arthur, BoCo, Derek, Dennis, Norman, The Fat Controller
Enemies: Diesel, 'Arry and Bert, D199
Class: BR Class 35
Designer: Beyer Peacock Ltd.
Builder: Beyer Peacock Ltd.
Built: 1964
Configuration: Bo-Bo
Arrived on Sodor: 1967
Top speed: 90 mph
Bear (originally known by his number, D7101) is a mixed traffic diesel engine. He name comes from the growling noises he makes, which makes him sound like a bear.
Bio
Bear came to Sodor on trial with an associate of his, D199. At the time, Bear had no name, only a number: Diesel 7101. However, when Diesel 199 was rude, Bear put him in his place and tried to be respectful to the engines of the North Western Railway. Later, Henry rescued both Bear and Diesel 199 from some technical malfunctions from both parties. Bear learned a great deal from this experience, seeing steam engines as hard-working, resilient, utterly inspirational. Henry put in a good word for Bear, and he joined the railway. The name "Bear" had stuck, due to the loud growls his engine made.
Persona
Bear is one of the more useful diesels. He is a loyal and friendly sort, but often makes unusual growling noises much to the disturbance of the other engines; thus earning the name "Bear." The Fat Controller was impressed with BoCo and Bear; he called them "versatile" because they could pull both coaches and trucks. BoCo and Bear usually defend the steam engines when a visiting diesel boasts about how superior they are.
Livery
Bear is currently painted in all-over B.R. loco green with a narrow band of lime along the bottom of the sides with cream window surrounds and yellow warning panels. When he first arrived on Sodor, he wore the B.R. "Rail Blue" livery with yellow warning panels.
Appearances
Specials: