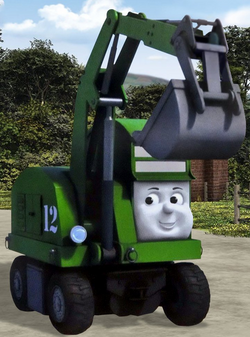 Alfie
Number: 12
First Appearance: Scruff the Scrapper (cameo), Fergus and the Small Engines (speaking)
Friends: Thomas, Marion, Nelson, Jack, Oliver the Excavator, Kelly, Byron, Ned, Isobella, Patrick, Buster, Jenny Packard
Enemies: Max and Monty
Built: 1960
Alfie is a green excavator who works for the Sodor Construction Company.
Bio
Alfie was purchased by Jenny Packard before his soon-to-be-best friend Jack, whom he met while working at the quarry. The two eventually became good friends after Max roared pass them, and Jack managed to tell him to stop bullying. When Miss Jenny allowed Jack to be a part of her crew, Alfie was delighted.
Persona
Alfie is a friendly machine who gets on well with his work and never minds getting dirty or mucky during jobs.
Livery
Alfie is painted green with the number "12" painted on his sides and on the back of his cab in white.
Appearances
Specials: